I Can, You Can, It's All About The Canyon
Hello everyone! We have moved onto the next portion of our trip – Page, Arizona. Page is a relatively small town that has a ton of culture and amazing scenery. We really enjoyed our time in Page including the people and culture.
We started by driving 2.5 hours from the Grand Canyon to Page and our first stop was the Lower Antelope Canyon. Now, the internet was a little lax on the rules of getting a photo tour (and a tour in general) so when we got there, we found out that we missed the photo tour so we had to do a regular tour – such a bummer, I know. But – you do what you have to do! There was a perk to doing this particular tour because our tour guide was amazing! She was so knowledgeable about the area because she lives there and she and her husband are Navajo. She was able to tell us more about the canyons and the history behind them.
The tour started out by going down 5 flights of stairs over 100ft down. Lower Antelope Canyon (and upper for that matter) is hard to put into words. As you walk through Lower Antelope, it is very narrow at the bottom and wide at the top so the sunlight pours in and hits the walls. You feel like you are in another world. The walls change color, twist and turn as the sun changes position. It is spectacular to see. Even though you are down in the canyon with a bunch of other people, you really do feel like you were able to see everything and feel the power of it. The pictures will say it all…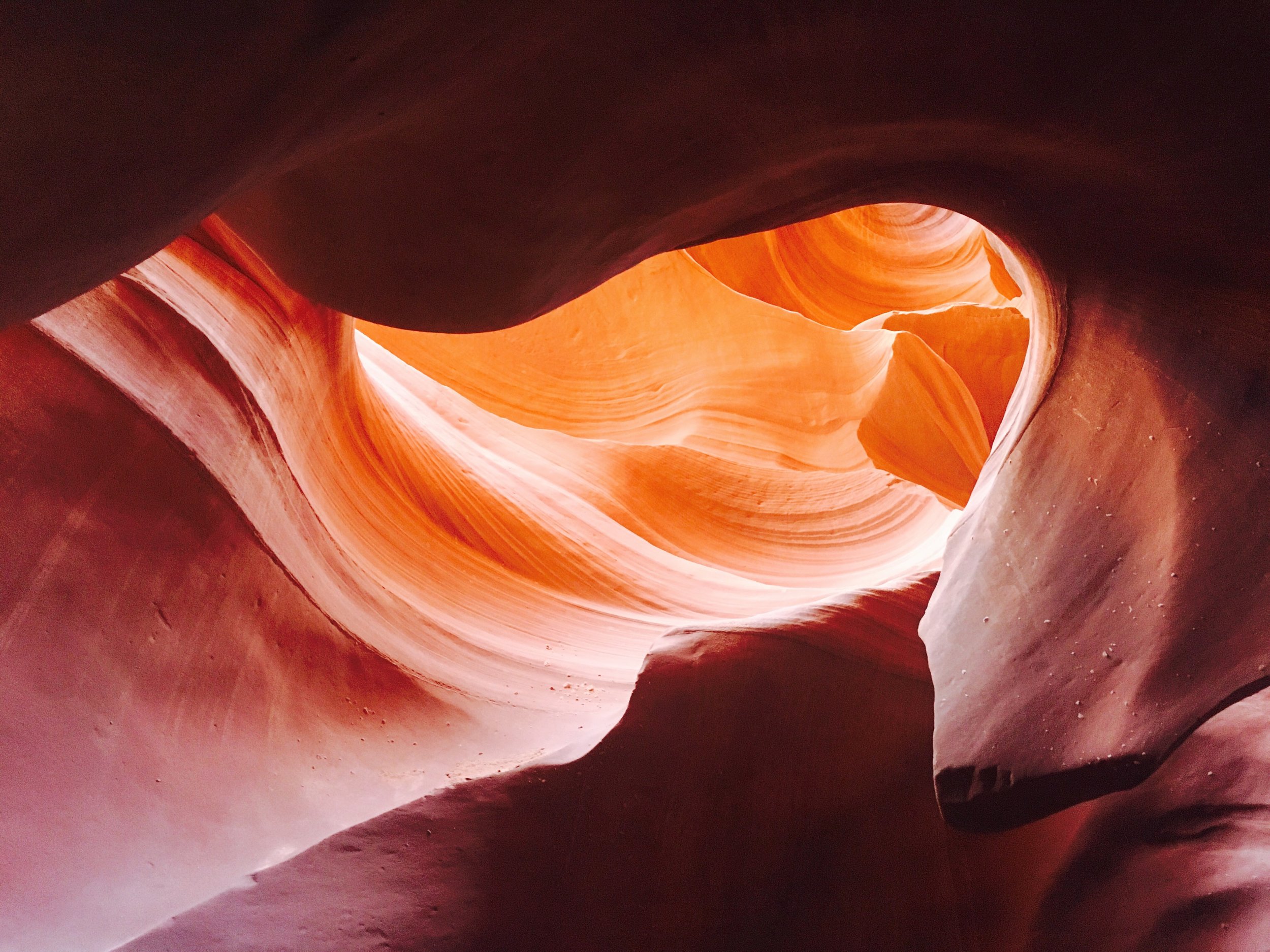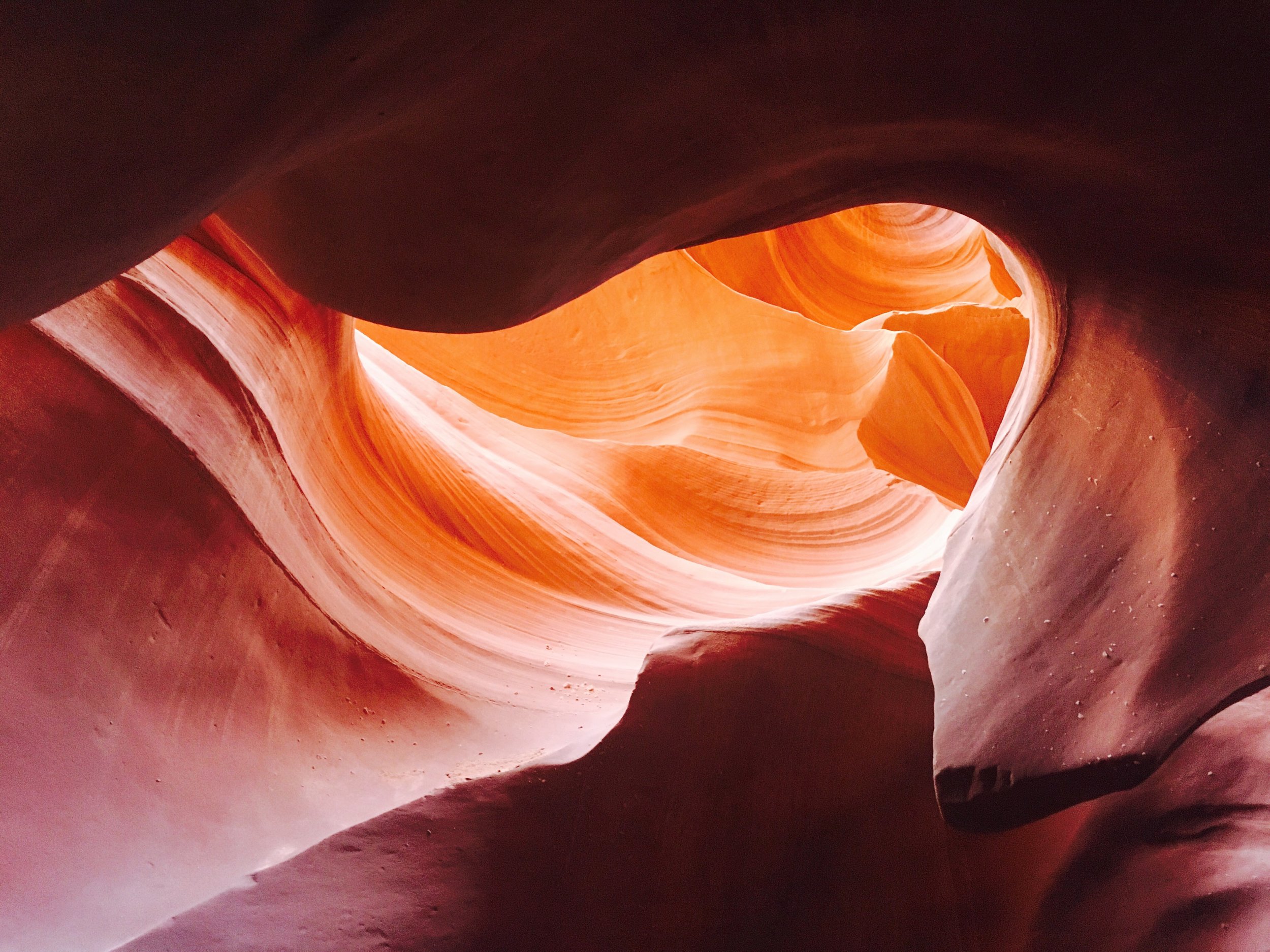 Once we left Lower Antelope Canyon, we checked into our campsite in Page. One thing that Cameron and I didn't love about this campsite (and that is very little) was that you set up camp on sand. We don't like sand. It gets everywhere and stays around forever. Unfortunately, throughout the two evenings we were there, the tent kept getting more and more sand in it without us knowing how. But, I will say that the tent held up in the wind amazingly because the first evening was super windy and it didn't bother us one bit.
We decided to go to Horseshoe Bend at sunset. It is a pretty iconic location so we were sure it was going to be packed with other tourists trying to take photos just like us. We were right but it was large enough to feel a little more spaced out and not on top of each other. The view was amazingly beautiful and is exactly what it is named – the Colorado River arched around a mountain in the shape of a horseshoe. The one downside to the evening was that it was EXTREMELY windy which meant that sand would blow up whenever there was a large gust of wind and you would have to cover everything so sand didn't get everywhere. One thing that terrified me about this particular spot was that people are not afraid to get close to the edge. I am talking hanging feet off the edge while throwing their arms in the air while a huge gust of wind and sand emerges. I swore I was going to see someone fall (and thank goodness I didn't)! But overall, it was a beautiful place to see and bucket list check.
We had an actual photo tour the next day for Upper Antelope Canyon. Now, to be on the photo tour, you HAVE to be a photographer. Me? I am an iphone photographer, not a professional photographer. I have Cameron for that. So I had to fake my way through it which I think I did pretty well myself! This canyon is different than the Lower Antelope Canyon because the base of it is very wide but the top of the canyon is narrow so you get beautiful beams of light that come down into the canyon. For this tour, they usher you through the canyon knowing exactly when the sun will hit each spot. It was amazing how organized they were! The tour guides would clear everyone that was not on the photo tour out of the canyon so you could have a few minutes at each spot to get your shots without people. It's amazing to see the light beams hit the canton floor and light it up! Pictures below to prove it!
The tour ended in the early afternoon so we had some time on our hands. We didn't have anything planned so we just started driving. It was the best idea that we had because the Glen Canyon Scenic Byway was beautiful! It took you up and through the red mountains then back down again. We eventually hit Lee's Ferry. This was an old Ferry Dock along the Colorado River. It was a little piece of heaven that popped out of nowhere! Being able to touch the Colorado River after seeing it so many times was awesome. We also got to see a Condor, which is a large bird that looks similar to a vulture but endangered. There are only 77 known between the Grand Canyon and Zion.
We decided to not eat at the campsite that night and go to a barbeque place that we read about online called Big John's Texas BBQ. It was converted from an old gas station so it was big and open on the outside and a great way to end our time in Page. The food was pretty good too (but I am still partial to Eli's in Cinncinati)! This was our last day in Page, until we headed to Sedona.
Thanks for following along!
-C&K