Ever Been to the Grand Canyon?
Hello readers - Kylee here! With the help of Cameron, I will be blogging about our trip to the Grand Canyon, Antelope Canyon and Sedona. So far this trip has definitely been a great one (great things and free stuff – more to come on that).
Our 7:30am flight and rental car went smoothly so once we arrived, we were off! Our first stop was in Flagstaff where we were camping for the first night. Once we got there, we checked into the campsite and set up camp. Now, Cameron and I just bought a new tent (The Stormbreak 3 by The North Face, if anyone is wondering) so we wanted to get things set up and ready so we didn't have to do anything in the dark. Needless to say, we nailed it. Once everything was set up, we ran to the grocery to grab a bunch of food for the week and just relaxed for a little while since we were pretty tired from the flight earlier in the day. Really, that was it. Our first day was kind of boring but it was a day to get ourselves ready for the week and everything we needed.
We woke up on Eater Sunday and headed to the Grand Canyon! Neither Cameron nor I have been here before so we were VERY excited to be experiencing something new. An awesome thing that happened when we go there was that we got in for FREE! It is National Parks week so the weekend was free (high-five)! Obviously a great start to our morning, we headed straight to Mather Point. It is really an amazing spot to really take a first good look at the canyon. Now, I have said this about almost every trip we have taken and will probably always say it but pictures do not do it justice. If you have been to the Grand Canyon, you understand. Seeing it in person really gives you a perspective about the natural beauties in our country. We realized just how excited we were to actually hike it.
So we go the packs ready and were off to our first trial of the trip: The Bright Angel Trail. Now, this trail can go on forever if you want to hike all the way to the North Rim but that is a multi day hike and we were not up that. As you can imagine, hiking the Grand Canyon means you are always going up or down. We did a 4-mile round trip hike and the first 2 miles were great – downhill! Being able to hike down a canyon is definitely something that is amazing to do and recommended if you can! The views were break taking and you see a shift in the colors of rocks, which really gives you an idea of how ancient the land is. Hiking up the canyon, on the other hand, was a bit more difficult. It was a steady 45 degree angle the whole 2 miles up, which made it a great workout for your legs! It took us a total of 4 hours to hike it but they generally say that it will take twice as long going up as it did going down…but we booked it going back up!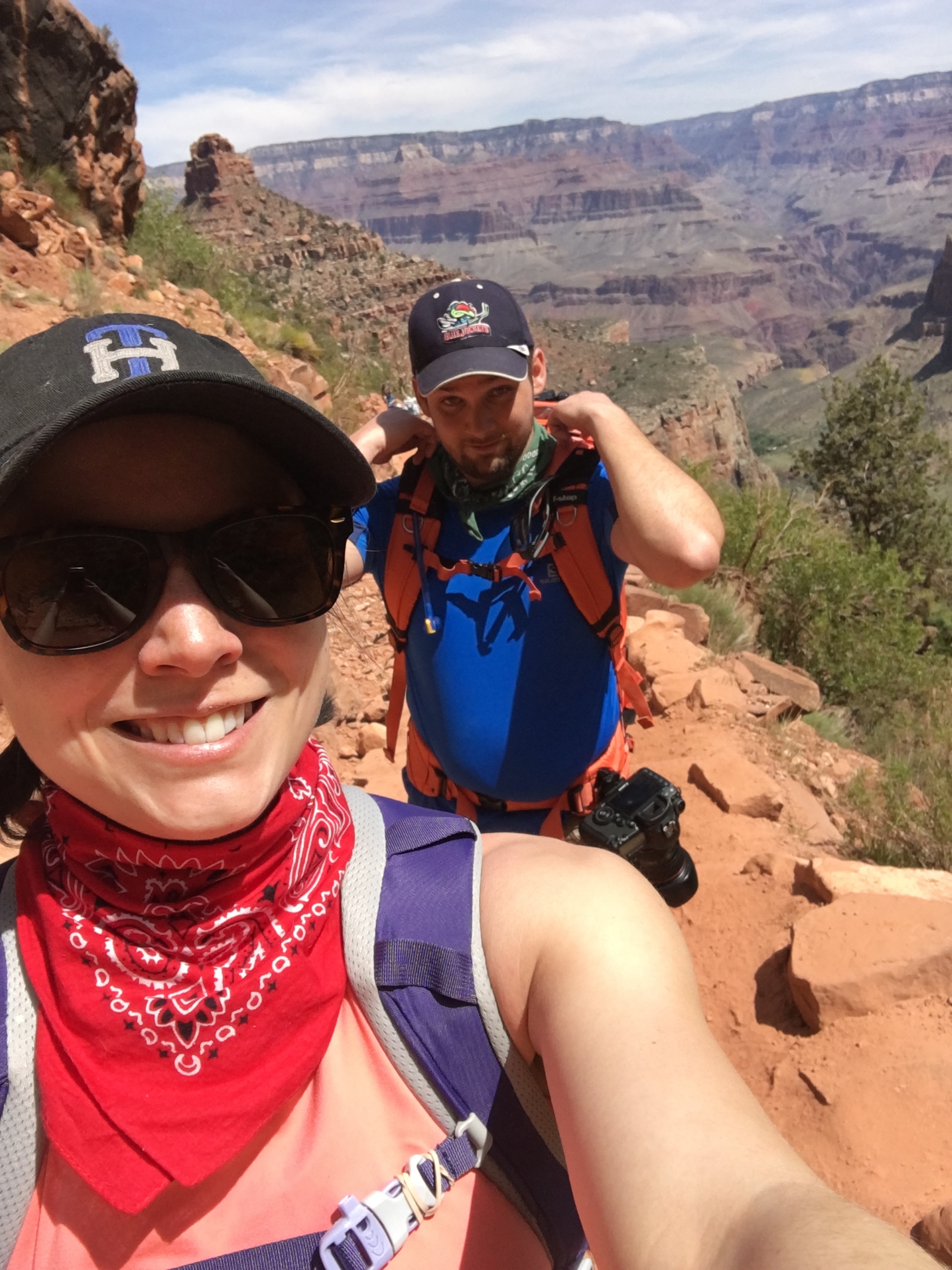 After the Bright angel trail, we got ice cream (because well, we deserved it!) and went to setup camp at the campgrounds. After relaxing and eating some dinner, we headed to the other side of the park to Desert View to catch the sunset. We walked around the point to find the best spot to photograph the sunset. While we were doing that, behind us was a little girl who almost got trampled by an elk. People, do not get close to wildlife. Read the signs posted everywhere about that. Enough said. As the sunset, so did our first day to the Grand Canyon. It was beautiful to watch and a great ending to our day.
Thank goodness we are still 2 hours ahead because when Cameron had the brilliant idea to wake up at 5:00am to catch the sunrise…. it was worth it. It is amazing to be able to see both the sunset and sunrise in the same place. It was a very different experience each time. Naturally, we were still tired (because we woke at 5:00am) so we went back to the tent to nap for a bit and got on our way. We packed up and grabbed the shuttle to the South Kaibab trail. This trail was a little more rigorous than the Bright Angel because it is at a steeper incline. But if you can do a mile in, it is VERY much worth it. There is a scenic point one mile in called the Ohh-Ahh Point. I think you can figure out why. It gave you ALMOST a 360 degree view! Breath taking is putting it lightly. If you have the courage like we did, venturing out onto the rocks made it worth risking the fall (though to be honest, we did psyched ourselves out when we were standing out there but we are SO glad we did it)! We hiked a total of about 3 miles roundtrip but it was definitely harder going up because the trail was not as well kept and a lot steeper than the Bright Angel trail. Well worth the hike. Oh, and I got to pet some mules to there's that. Always finding an animal to pet on vacation!
Next was Yaki Point. Again, a beautiful view and hiked a little too close to the edge (but always worth it). We decided to eat lunch out on the rocks overlooking the Grand Canyon – something else to check off the bucket list! We have always been interested in learning about the culture around us so when we were given the chance to do so, we visited the Tusayan Ruins and Museum. To summarize, it was short but sweet. We were able to learn a lot about how the local people lived and survived and how innovative they were.
Before we went back to the hotel we booked for the night, we decided to hit Grandview point, which is another scenic overlook. Obviously, it was beautiful as the previous overlooks that we had visited. We hiked a little of the Grandview trailhead which was there but we didn't go far because it was extremely steep and not at all kept up so there was a lot of loose rock. This is one of the harder hikes in the Grand Canyon because it drops around 2500 feet in 3 miles! No go for us after we have already hiked that day. We checked into our hotel that night so we could have a good shower and a bed.
This is just the Grand Canyon portion on the trip and so far it has been one to remember. Next we head to Antelope Canyon (upper and lower), Horseshoe Bend and after that Sedona. More posts to come – thanks for following along!
-C&K